In the noble heart of the old town
Perfect for 2 guests
1 double bed, 1 children's beds
Distance park: 300m
Distance marina: 700m
Distance main station: 700m
Perfect escape from the winter
From 480 EUR per week
Palazzo Castrofilippo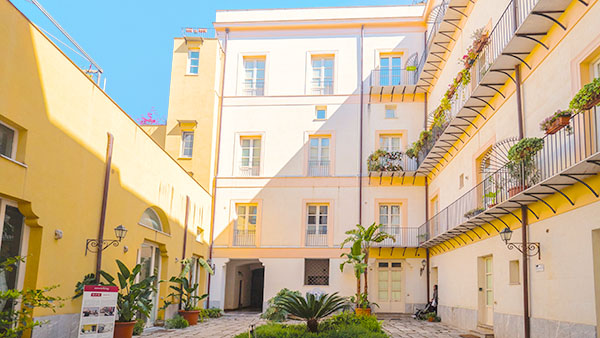 Palazzo Castrofilippo is situated in the center of the Kalsa, the former noble quarter of the Sicilian aristocracy. From here it is only a few minutes to Palermo's wonderful marina "La Cala", a small park with big trees ("Villa Garibaldi") and the historic market "La Vucciria". This map provides an overview of Palermo and the surroundings of Palazzo Castrofilippo.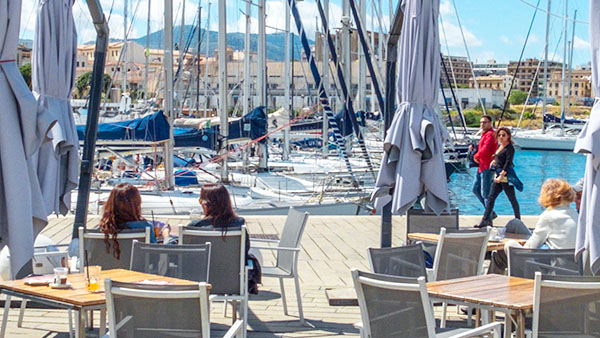 The marina "La Cala"
"La Cala" is not only a wonderful place to relax – here you also breathe pure history. Until 3000 years ago "La Cala" was a perfect natural harbor. The Phoenicians were the first to discover it and founded one of their most important trading settlements here. Today our holiday letting Castrofilippo is only 10 minutes away. The cappuccino with ocean view is almost on your doorstep.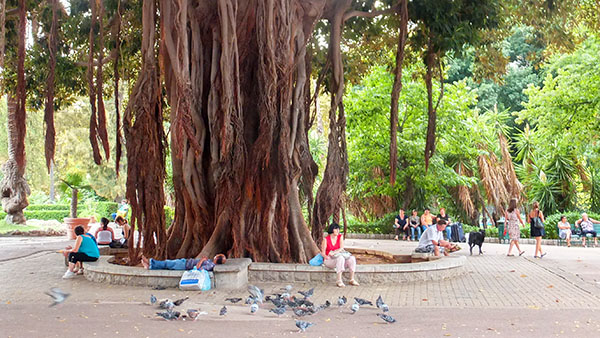 The park "Villa Garibaldi"
Villa Garibaldi is a small park with large trees. These trees make you forget that you are in the center of a bustling city. Guests of our holiday letting Castrofilippo reach this green lung after a short walk of only 5 minutes.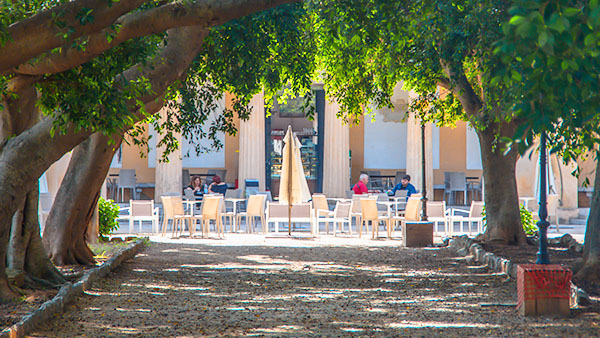 The park "Villa Giulia"
The big park "Villa Giulia" already existed in Goethe's time. He wrote about it in his book "Italian Journey": In the public garden, directly at the port, I quietly spent my most pleasant hours. It is the most beautiful place in the world. And this wonderful place is only 10 minutes away from our holdiay letting Castrofilippo.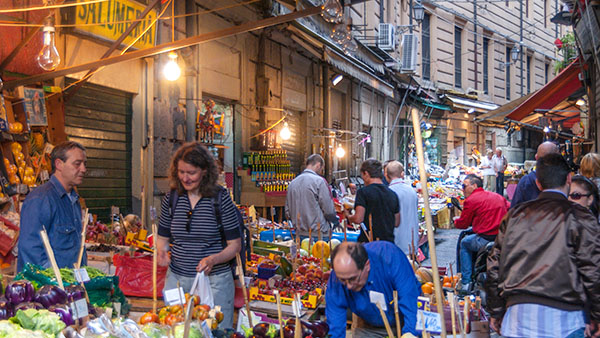 Old town
Once a noble quarter of the Sicilian aristocracy, "La Kalsa" today is one of the four old town districts of Palermo. Its narrow streets are home to craft and trade – car repair shops, bicycle shops, knife-grinding shops, all kinds of everyday goods, mom-and-pop stores and, of course, countless bars – not prettified for the eyes of tourists, but embedded in the daily life of Palermo's inhabitants. Not least because of this, our holiday letting Castrofilippo is ideal for a longer stay – especially in the sunny Sicilian winter.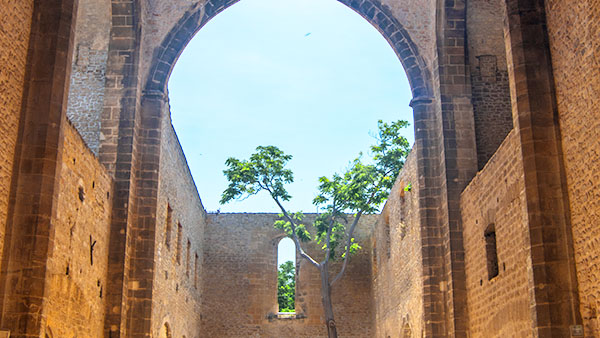 The church "Lo Spasimo"
The history of the former church "Santa Maria dello Spasimo" (short "Lo Spasimo") is full of surprises. Built as a church, it soon became part of a defensive system, military hospital, granary, poorhouse and finally victim of the bombs of World War II. Nowadays, the former church is a famous place for cultural events. The missing roof creates a very special atmosphere – especially on warm summer nights. The outbuildings of the church are a jazz school today. No wonder – Palermo is one of the strongholds of Jazz in Europe. And you will find all this right on the doorstep of the Castrofilippo holiday letting.
This way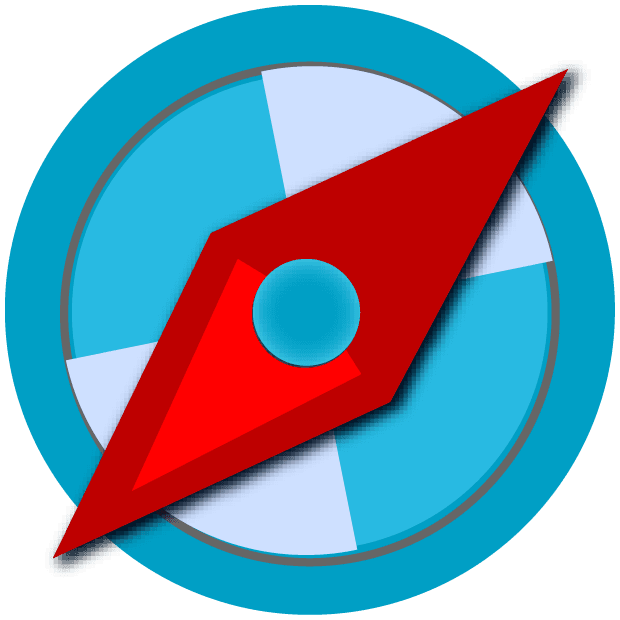 Would you like to know exactly where the holiday letting is and how to get there from the airport? You are looking for things to see "just around the corner"? You would like to explore Palermo's surroundings by bus and train? These maps will help you find your way around quickly:
Facilities
Fully equipped kitchen with all important appliances
Fridge-freezer combination, microwave, cooking plate
Dining area and adjoining room
1 bedroom with double bed
1 bathroom with shower tray, bidet and hairdryer
Living room with satellite TV (free)
WLAN in all rooms (free)
Air conditioning, gas heating
Elevator, suitable for wheelchairs
Pets on demand
Prices
| from | to | Price € |
| --- | --- | --- |
| 14.04.2019 | 28.04.2019 | 620,00 |
| 28.04.2019 | 31.05.2019 | 550,00 |
| 31.05.2019 | 30.06.2019 | 620,00 |
| 30.06.2019 | 31.07.2019 | 690,00 |
| 31.07.2019 | 31.08.2019 | 750,00 |
| 31.08.2019 | 30.09.2019 | 620,00 |
| 30.09.2019 | 31.10.2019 | 550,00 |
| 31.10.2019 | 31.03.2020 | 480,00 |
All prices are for one week with an occupancy of 2 persons.
Each additional person is charged with 10,00 € per night.
Children under the age of three will not be charged.
Including bed linen, towels, final cleaning, gas, water, satellite TV and WLAN included.
Minimum stay: 2 nights.
Caution 100.00 €.
Electricity 0.33 € per kWh.
Extra cleaning 7.00 € per hour, extra change of bed linen and towels 10.00 € per person.
Check-in 15:00 – 20:00.
A check-in after 20:00 is charged with 30,00 €.
Check-out until 10:00.
Contact
The Palermo Blu holdiay lettings are managed by Solemar Sicilia. Solemar Sicilia is a Sicilian-German family-run operation that has offered excellent holiday lettings and language courses for more than thirty years. Your local contact is Fabian Grüssner.
Information for you